The Canton Electrical JATC has changed the applications process. We have moved to Online applications. There is a link at the bottom of this page to start a new application. For anyone who would like to drop anything off in person, we will accept those either by appointment or you can place your items in the locked mail box located at the entrance of our facility. Please give our office a call with any questions or to schedule a time at (330) 830-6446.
————————————————————————–
Eligibility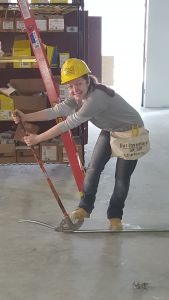 APPLICANTS MUST MEET THE FOLLOWING MINIMUM REQUIREMENTS
Must be 18 years of age by July 1, of current year.
Must be a high school graduate or have a G.E.D. by July 1, of current year.
Must have one full credit of High School or College Algebra with an average grade of "C" or higher.
Must be capable of passing physical examination and drug screening, if accepted.
Proof of a valid driver's license.
For preparation with the application process and information for future IBEW electrical workers, visit  www.electricprep.com.
Start Your Application:
Our application is now online, below are some of the things you will need when applying for any of our programs:
THE FOLLOWING ITEMS ARE REQUIRED TO BE SUBMITTED WITH YOUR APPLICATION:
OFFICIAL TRANSCRIPT:  A legible official transcript (to be considered official, your transcript must have your school's raised seal or a signature by a school official) of your completed high school courses and grades for the entire four (4) years, showing all completed ATTENDANCE, CLASS STANDINGS and FINAL GRADES, and any other grades you may have had from a state accredited school.
A MINIMUM of three (3) letters of recommendation from anyone other than a relative. They MUST BE DATED AND SIGNED with an actual signature from the writer of the recommendation letter. Letters will not be accepted without a signature.
A copy of your Driver's License.
Work History
Pay Application Fee
You will have 30 days to complete the application and submit the above items. Applications are accepted all year, however you must have a COMPLETE application by no later than April 15th of the current year to be eligible for that years apprenticeship classes. To have a complete application, you must complete all steps of the application process which includes having all supporting documentation submitted and verified by our office.

Please follow Applicant instructions, if you have any questions please give us a call!
CANTON ELECTRICAL JOINT APPRENTICE & TRAINING COMMITTEE (J.A.T.C.)
3855 Wales Ave. NW, Massillon, OH 44646
Ph. (330) 830-6446
For Further Information please check the FAQ's